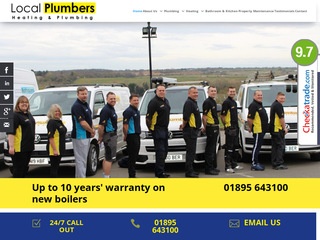 Local Plumbers (London) Ltd is made up of experienced plumbers and specialist heating engineers. Our fully-qualified and Gas Safe Registered engineers operate under the hands on running of Mr Darren Allen. Our specialist team has delivered expert service and customer care for more than 30 years. We handle both large and smaller jobs with the very same criteria and attitude. Our engineers operate under the strictest quality management to ensure that our clients are left entirely satisfied.
We are dedicated to providing a reliable and dependable service to all our clients. If we say we will be there, we will be there! Our dedicated staff provide honest, high quality service at competitive rates. Before we start any work, we'll provide a full, guaranteed quote without any additional extras or hidden costs. Our engineers won't ever carry out a job that does not need doing. Our services are highly recommended for domestic, commercial and landlord boiler setup for a wide assortment of makes and models.
Besides complete plumbing services, our heating system engineers will execute any work you need in your own system. We can install, replace and fix all kinds of central heating systems, fireplaces and boilers. Whether you want a very simple checkup, your radiator requires bleeding, or you will need a completely new setup, we're here for you! Simply give our experienced plumbers and engineers a telephone call, and we are delighted to answer any questions that you might have!
More Links
Business address
Websites from Home