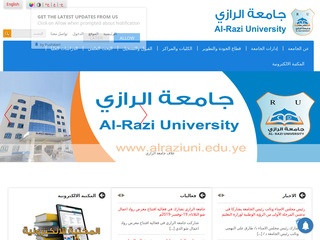 Al-Razi University in Brief
The establishment of Al-Razi University started under the name of Al-Razi College for Medical Sciences as an authorized educational institution in 2009. This college was specialized in the medical education which aimed at qualifying students in specialized medical sciences to match the society needs. It also contributed in offering the best of health services. In 2013, this college was developed to Al-Razi University to open new academic programs. To achieve this, Al-Razi University provided the required infrastructure such as, buildings, laboratories, curriculums, academic staff with high qualifications, experiences and competences in the academic process. Al-Razi University has also proceeded the up-to-date methods and aids in the independent academic education that cope with the renewal and modern technology of education.
Faculties and Specializations:
· Faculty of Medical Sciences:
It includes the following specializations: Anesthesia, Pharmacy, Laboratories, Nursing, Midwifery, Community Health, Physiotherapy, Medical Nutrition.
· Faculty of Computer & Information Technology:
It includes the following specializations: Computer Sciences, Information Technology, Administrative Information Systems, Networks
· Faculty of Human and Administrative Sciences
It includes the following specializations: Accounting, Exchange & Financial Sciences, Marketing.
· Faculty of Higher Studies:
It includes the following specializations: Business Administration, Intensive Care, Epidemiology.
Websites from People